Details
CPS is a specialist manufacturer of safer and environmentally friendly screen printing chemicals supplied world wide. Founded in 1982, CPS is recognised as a pioneer in safer chemical product development driven by a vision to provide a sustainable printing process that is safer, greener and more efficient for the print industry.
KEO CHỤP BẢN
CPS 500 is a multi-purpose solvent and water resistant Dual-cure / Diazo photoemulsion for fine resolution and good definition.
Advantages: easy to erase the background.
CPS SOLVENTS GROUPS
Screen Opener: (D2, K2,...)
Screen Cleaner: (K3x, A3x, A7x,…)
Screen Wash: (K3, A5, A6, A7,…)
Aqua Wash: (450,…)
ADVANTAGES
- Higher flashpoints
- Low evaporation
- Less consumption
- Cost effective
- Safer environment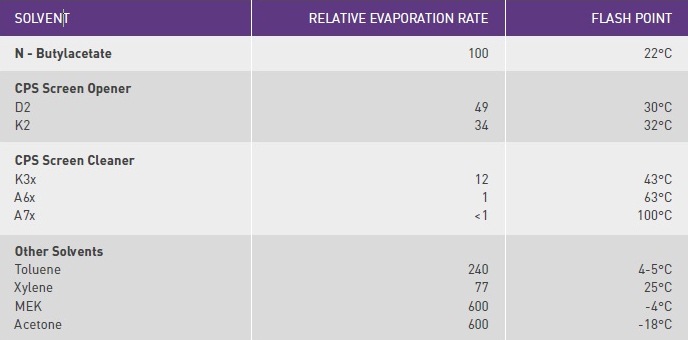 * Evaporation rate for water: 30